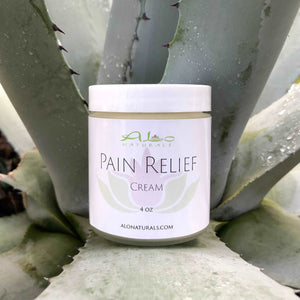 Pain Relief Cream
This plant based cream provides wonderful relief from everyday aches and pains.
 

Its all natural anti-inflammatory properties are thought to aid in pain relief associated with joints, muscles, tendons, and ligaments, and are said to speed the healing process, reducing pain and bruising.

 

Avoid contact with eyes and other sensitive areas.

 


*This cream will liquefy at about 90+ degrees F.
 

We recommend storing it in a cool dry place to maintain freshness and quality.
Ingredients:  Turmeric Butter, Arnica, Peppermint Oil, Boswallia, Flaxseed Oil, Vitamin E Oil, Wintergreen Oil, Palmarosa Oil,
Witch Hazel

, and

White Willow Bark.