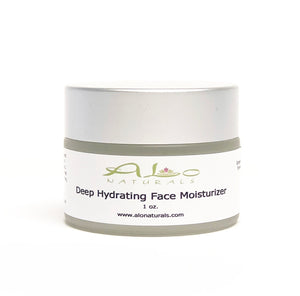 Deep Hydrating Face Moisturizer
Formulated with intense hydration for soft, healthy, and nourished skin.
 

Made to smooth both skin tone and texture.

 

Aids in reducing the appearance of fine lines, wrinkles, acne, scaring, sun and age spots.

 

Helps boost circulation which promotes healthy skin cell regeneration, for a glowing and youthful complexion.

 

Aids in balancing dry, oily, and combination skin types.

 

 

 

Ingredients: Green Tea, Chamomile, Calendula, Shea Butter, Organic Beeswax, Evening Primrose, Rosehip Seed Oil, Vitamin E, and Therapeutic Grade Essential Oils.

 

*Store in a cool, dark place to maintain quality and life of the product.