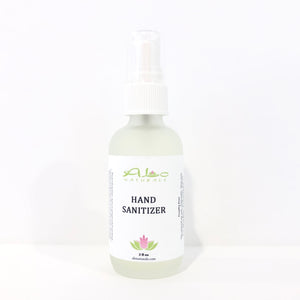 Hand Sanitizer
Our hand sanitizer spritz is natural and formulated to purify and disinfect the hands effectively. It is the perfect alternative when there is no access to soap and water. 
This sanitizer is formulated with 70% alcohol, as its key active ingredient. Alcohol is known to kill bacteria and microbes that may cause illness through transmission by the hands. This supports your health and well being in addition to those around you.
Our sanitizer is also scented with therapeutic grade essential oils that are known for their antibacterial properties, giving it more protection with a pleasant aroma.
Ingredients: Alcohol, Distilled Water, Glycerine, Hydrogen Peroxide, and Therapeutic Grade Essential Oils. 


*Warning: For external use only. Flammable. Keep away from heat or flame.  This product should not be used on any open skin wounds and kept out of reach of children. In case of contact with eyes, rinse eyes thoroughly with water. If swallowed, get medical help or contact a Poison Control Center immediately. In the event of an allergic reaction, rash, or irritation, discontinue use and consult a doctor, pharmacist, or allergist right away for a health assessment and appropriate remedial action.