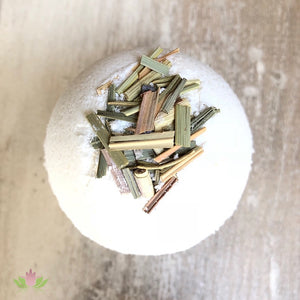 Lemongrass
The fresh scent of Lemongrass essential oil is known to aid in curing depression and anxiety.  It has soothing, sedating, and calming effects on the mind.
Our bath bombs are all hand pressed with Dead Sea salt.  We use Dead Sea salt because it has a high content of salts and minerals that are claimed to be essential for the body, thus cleansing and drawing impurities out of the skin.  It has anti-aging and detoxifying properties, relaxes and restores tired achy muscles, and improves blood circulation which promotes healing and renewal.
To Use:  Drop in warm bath water.  Enjoy the fizzle, natural essence, and relax!  
Ingredients:  Dead Sea salt, Lavender essential oil, Rosemary essential oil, Lavender buds, Rosemary leaves, Sweet almond oil, Baking soda, Corn starch, Citric Acid, Water.