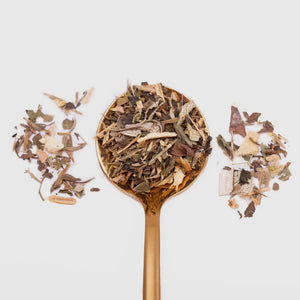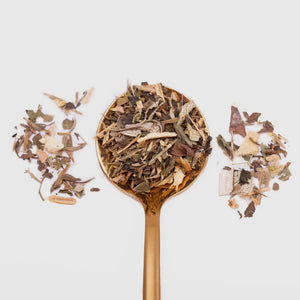 Allergy Relief Tea
Herbal Tea For Allergy Relief.
This blend is perfect if you're:

Struggling with seasonal allergies

Battling congested sinuses

Juggling a runny nose and pesky cough

Dealing with a cold or flu-related cough

Just generally feeling a bit under the we

ather
Allergy Relief Tea is a blend of herbs that promote feelings of clarity and alertness during cold and allergy season. It's no fun being so congested that it's impossible to think straight, so we made this tea to help you feel clear and refreshed all year long. 
The peppermint, thyme, and sage help to relieve congestion in the sinuses, while the yerba santa, ginger, and licorice support your lungs.
Ingredients: Ginger*, Peppermint*, Nettle leaf*, Licorice root,* Goldenrod*, Thyme*, Yerba Santa*, Elderflowers*, Sage*  (*certified organic)
Caffeine levels: none
Tasting notes: refreshing herbal, with mild medicinal and aromatic notes
Brewing Instructions: Steep a teaspoon of Allergy Relief Tea in a cup of hot water for 5 minutes or longer. Enjoy as is or with a touch of raw honey.
Suggested Use: Brew a hot mug any time you feel congested and stuffy. Breathe in the fragrant aroma as the tea steeps to help open your sinuses.