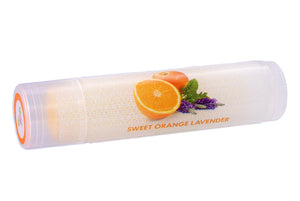 Sweet Orange Lavender
This lip balm contains vitamins A, B6, C, D, E, calcium, copper, iron, magnesium, omega 9, omega 6, omega 3, protein, and zinc.  It has anti-aging properties, increases collagen production, and aids in the healing of cold sores.  It contains essential oils of sweet orange and lavender which help the formation of collagen to aid in skin cell growth and the repair of tissue.  These oils have calming and relaxing properties and enhance the circulation of blood.
Sweet Orange Lavender: Organic bees wax, Shea butter, Mango butter, Olive oil, Jojoba oil, Sesame seed oil, Avocado oil, Apricot kernel oil, Vitamin E oil, Aloe vera, Kukui nut oil, Sweet orange essential oil and Lavender essential oil.